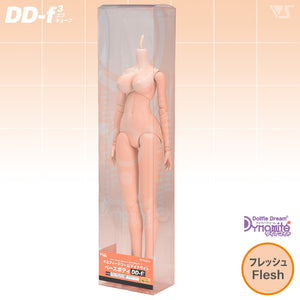 Base body with inner frame "DD-f3"!
Movable, removable, holding, and beauty.
A base body that uses the inner frame "DD-f3" developed by Zoukei-mura.
■ Product Details
Skin Color

Flesh

Body specifications

DDdy base body (DD-f3), normal chest




normal hand (DDII-H-01) adopted
* The item pictured is a sample.Please understand the items included may change and the actual product may vary from the photo.

* Sold only for Base Body. Head are not included in the product.

* The body is made of soft vinyl. Keep away from high temperatures.

* Please be careful as the color of the outfit may stain the surface of the doll.