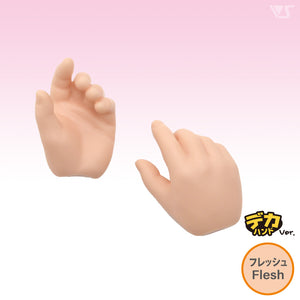 MDD joins the slightly larger "Hands (Large Ver.)" series ♪
The oversized big Hands (Large Ver.) is sized to look cute when you're wearing a voluminous dress or when you're in a dynamic pose!
It also supports DDP ♪
Size: MDD Base Body, MDD Base Body III, MDD Base Body (DD-f3), DDP Base Body (DD-f5)
Includes: Hand Parts, left and right set Skin Color: Flesh
* The items included in the product are only those listed in the "Includes". Model dolls, Wigs, and accessories are not included.
* The item pictured is a sample. Please understand the items included may change and the actual product may vary from the photo.
※ separately Parts is sold.
* Please note the color transfer. Please keep away from high temperatures.